Back when I used to live in New York, I'd come home from the office or dinner at around 11pm and inevitably stop off at the local CVS/Duane Reade to buy a few quick items for the apartment - shampoo, a bottle of water, bag of nuts, whatever. As a well-informed credit consumer, I of course paid with my American Express Blue card, which conveniently replaced the useless 'smart chip' with an ExpressPay contactless RFID chip inside (this was started in 2005). The first time you go Contactless, its a bit confusing - in fact, i actually paid via Contactless accidentally the first time. The card only needs to come close to the POS terminal in order for it to be registered, then a simple click on the "Credit Card" option and walla - you've got a completed transaction - no signature needed.
Once I went contactless, there was no turning back. I began taking the whole wallet and bringing it close to the POS, instead of taking the card out of its slot (yeah, its a lazy man's paradise). In fact, I found out soon afterwards that Amex offered an ExpressPay keychain tag that can be used in lieu of the credit card - I was in paradise. I mean, on the fun run from the apartment to the gym, and on the way back, I could buy a bottle of water and a protein bar without my wallet, ID, or whatever - just my keys. I knew then that this would be big...
Well, yes, it is big. According to GIA, the global contactless business is expected to reach $2.35Bn in 2015. Yeah, that number might seem low in relation to overall credit/debit payments, but it is still quite large.  The main growth areas for Contactless Chips are expected to be in Government Cards (think e-passport), Mass Transit (Octopus MTR in Hong Kong, Singapore's MRT, Shenzhen's subway system), Payment and Access Control. The main growth markets are expected to be Asia-Pacific, EMEA, then the US, primarily due to the sheer size of Mass Transit and Government cards, which are already growing in Asia-Pacific and Europe.
Looking at a few early adopters, one can see the potential markets created with such a product. In Hong Kong, the entire public transportation system (MTR) depends on a contactless chip embedded in a rechargable card, in cellphones and in watches.
The MTR Octopus chip can be recharged at local ATMs and designated locations, and can b e used to pay for items in the subway system and surrounding shops (small purchases). It's widely used across the island. A similar system exists in Singapore with the MRT system.
In mainland China, across the border from Hong Kong in the city of Shenzhen, the new subway system uses a poker chip-like device with an RFID chip inside, to gain access. The 'coin' never enters a slot on entry and automatically registers your travel parameters. It's quite neat.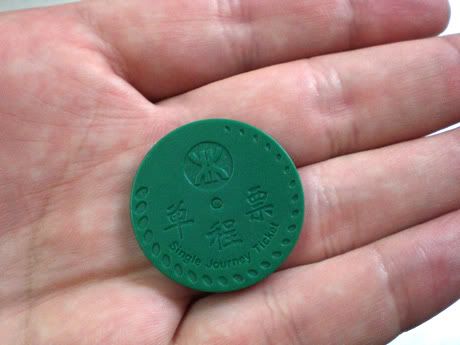 Finally, there are a handful of startups moving contactless tags to cellphones, since nearly everyone is carrying one all the time. One company out of the US that has developed an interesting technology for this application is Mobile Payment Skins, which has created a subcompany called Phoolah. The product is a phone-specific custom skin that is designed by the user, a corporate sponsor, or selected from pre-designed layouts, that includes an RFID chip, good for contactless payment on a particular card owned by the cellphone owner. The product looks quite simple and easy and I wouldn't be surprised if this company really takes off...
Hope this was a useful overview of the space and that i've given you enough of a headstart on understanding the contactless payment space.